Nanomaterials Chemistry and Engineering
The Holmberg research group is devoted to the development and study of new functional nanomaterials that have the potential to be produced in a scalable and cost-effective manner. We focus on inorganic nanostructures, such as nanowires and nanocrystals, synthesized via scalable solution-based and supercritical fluid-based processes, with an emphasis on nanomaterial growth, assembly, and integration. A portion of our laboratory is currently devoted to the development and study of new types of flexible, high-rate, high-capacity battery materials, with the remainder focused on magnetic, plasmonic, and photonic nanomaterials.

 
Defect Engineering in Luminescent and Plasmonic Nanostructures
While most people might consider defects to be a bad thing, when carefully controlled and engineered properly, they can actually be a powerful tool for controlling the physical properties of materials. Through our NSF MRSEC-funded University of Washington Molecular Engineering Materials Center (UW MEM-C), we are working to engineer functional nanomaterials by directing defect formation through morphological and compositional control. Please visit the UW MEM-C website for more information!

Recent Publications on Luminescent and Plasmonic Nanostructures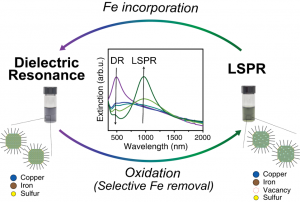 Lee, Soohyung; Ghosh, Sandeep; Hoyer, Chad E.; Liu, Hongbin; Li, Xiaosong; Holmberg, Vincent C., Iron-Content-Dependent, Quasi-Static Dielectric Resonances and Oxidative Transitions in Bornite and Chalcopyrite Copper Iron Sulfide Nanocrystals. Chemistry of Materials (2021). [Link]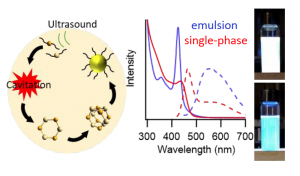 Kastilani, Ryan; Bishop, Brittany P.; Holmberg, Vincent C.; Pozzo, Lilo D., On-Demand Sonochemical Synthesis of Ultrasmall and Magic-Size CdSe Quantum Dots in Single-Phase and Emulsion Systems. Langmuir (2019), 35(50), 16583-16592. [Link]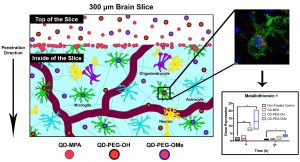 Zhang, Mengying; Bishop, Brittany P.; Thompson, Nicole L.; Hildahl, Kate; Dang, Binh; Mironchuk, Olesya; Chen, Nina; Aoki, Reyn; Holmberg, Vincent C.;* Nance, Elizabeth,* Quantum Dot Cellular Uptake and Toxicity in the Developing Brain: Implications for Use as Imaging Probes. Nanoscale Advances (2019), 1, 3424-3442. [Link] *co-corresponding*
Using Light to Manipulate, Assemble, and Drive the Growth of Inorganic Nanomaterials in Solution
Believe it or not, light can be used as a tool to both precisely assemble and drive the growth of inorganic nanomaterials in solution. In these systems, effects of anisotropic radiation pressure, heat transport, and solvent choice all play critical roles with respect to material transformations, nanostructure assembly, and local energy transduction, which can be used to drive chemistry and control the growth of crystalline nanomaterials. It is our hope that the examples below will lead to wider utilization of light-based techniques for the growth and assembly of diverse sets of nanomaterials in a variety of different solvent systems.
Recent Publications on Light-Driven Nanomaterial Assembly and Growth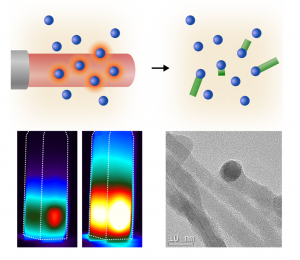 Pandres, Elena P.; Crane, Matthew J.; Davis, E. James; Pauzauskie, Peter J.; Holmberg, Vincent C., Laser-Driven Growth of Semiconductor Nanowires from Colloidal Nanocrystals. ACS Nano (2021). [Link]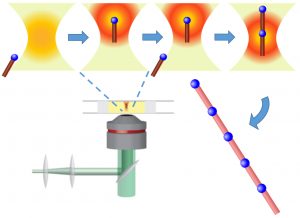 Crane, Matthew J.; Pandres, Elena P.; Davis, E. James; Holmberg, Vincent C.;* Pauzauskie, Peter J.,* Optically Oriented Attachment of Nanoscale Metal-Semiconductor Heterostructures in Organic Solvents via Photonic Nanosoldering. Nature Communications (2019), 10, 4942. [Link] *co-corresponding*
You can watch videos of the trapping and assembly processes here and here.

Nanostructured Electrode Materials for Electrochemical Energy Storage
We have significant emphasis on the development and study of nanostructured alloying electrode materials for Li-ion and Na-ion batteries – working to better understand and control the phase transformations, interfacial reactions, and other fundamental process that occur when you charge and discharge a battery, and studying the effects of chemical additives, controlled surface chemistry, and engineered electrode morphology – in an effort to improve energy storage capacity, charge/discharge rates, and battery longevity. Please visit the UW Clean Energy Institute (UW CEI) for more information regarding campus-wide research efforts in clean energy!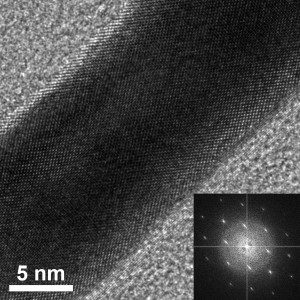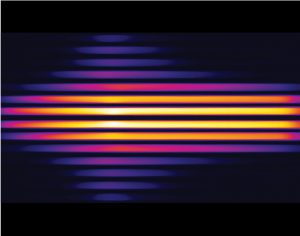 Recent Publications on Electrode Materials for Electrochemical Energy Storage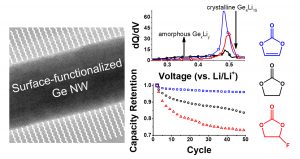 Pandres, Elena P.; Olson, Jarred Z.; Schlenker, Cody W.; Holmberg, Vincent C., Germanium Nanowire Battery Electrodes with Engineering Surface-Binder Interactions Exhibit Improved Cycle Life and High Energy Density without Fluorinated Additives. ACS Applied Energy Materials (2019), 2(9), 6200-6208. [Link]

Williamson, Grant; Hu, Victor W.; Yoo, Thomas B.; Affandy, Martin; Opie, Charles; Paradis, Emilee K.; Holmberg, Vincent C., Temperature-Dependent Electrochemical Characteristics of Antimony Nanocrystal Alloying Electrodes for Na-Ion Batteries. ACS Applied Energy Materials (2019), 2(9), 6741-6750. [Link]